Shopping Cart
Your Cart is Empty
There was an error with PayPal
Click here to try again
Thank you for your business!
You should be receiving an order confirmation from Paypal shortly.
Exit Shopping Cart
The "Perfect Puppy" that will add Joy to any home!
We are accredited AKC Breeders of Yorkshire Terriers
Zoey and Whiskey's Litter born week of April 22, 2023 (2) Boys

Josie and Tag's Litter born Apil 25, 2023 (1) Girl (1) Boy
***We are currently accepting deposits for picks of puppies from these two expected litters born in April 2023
Deposit is $300.00 and is applied towards total puppy price of $3500.00
Deposit has been accepted on Girl. We have (3) Boys Availble
(As of 5/23/2023)
If not enough puppies (genders) are born in each litter to cover the deposits, then the deposits will move forward to the next expected litter in the date order in which the deposits were placed.
*If you are interested in one of our puppies, please contact us to be placed on our waiting list or if you would like to place a deposit for a puppy from a future litter. We look forward to speaking with you*
You can send us a message via the Contact Us tab or call 704-692-8729
We accept deposits via Venmo or CashApp
*Please contact us prior to placing a deposit*
The required deposit amount to hold a place in line for pick of a puppy is $300.00
Our puppy prices are - $3500.00 (Depending on size and parents of the litter) Our puppies come with Limited AKC registration papers (breeding rights will be considered for an additional fee - if approved)
For EXPECTED LITTERS: Please click on the PHOTOS tab at the upper left of this page, then click into the EXPECTED LITTERS Album to see pictures of Parents. We will post pictures of the puppies in the NEW LITTERS Album Once they are born
For AVAILABLE PUPPIES: Please click on the PHOTOS tab at the upper left of this page, then click into the AVAILABLE PUPPIES Album to see pictures of available puppies and their parents
If you are interested in one of our puppies, please click on the CONTACT US Tab on the left of this page. Thank you and we look forward to speaking with you!
(We accept Cash, MasterCard, Visa and Discover)
Please click on the EXPECTED LITTERS, NEW LITTERS, and AVAILABLE PUPPIES tab at the upper left of this page to see NEW PUPPY NEWS!
PLEASE READ VERY IMPORTANT INFORMATION
Below you will find some very important information that I have put together and feel every prospective new yorkie owner should have knowledge of before making that final decision of adding a yorkie to your family...
Also, please read the OUR FAMILY page by clicking on the link above. It gives you, (the prospective new owner) some information about us as breeders. You can also click on the Photos Link to the left to view many photos of our dames, sires, available puppies, new litters, expected litters and past litters.
We take much pride in the breeding and raising of each of our yorkies. We strive only for the best qualities in the breed: Personality, temperment, size and color.
Likewise, I would greatly appreciate your signing my guestbook by clicking on the link to the left and leaving me a comment and/or feedback on my website.
If you are a proud new owner of one of my loving divine yorkie pups, please feel free to share your comment on your experience with me as a breeder and your comments about your new addition to your family, for the other viewers to read. We all love to share our wonderful experiences with these adorable puppies!!! And we have many of them : ) They bring us much joy and lots of laughter and bring a warm touch to any heart....
The History of the Yorkshire Terriers:
Yorkshire Terriers affectionately known as "Yorkies" are a small dog breed with big personalities. Yorkies were developed in the 1800s in the historical area of Yorkshire, England. The defining features of the breed are its small size, generally weighing (8 lbs) or less and its silky blue or black and tan coat. The breed is nicknamed Yorkie and is placed in the Toy Terrier group by kennel clubs. They are known to be a winning showdog and a popular companion dog. They were ranked #3 on most popular breed for 2009 and the TOP # 1 breed for the "Toy" breed.
Please take caution to those breeders who advertise "Teacup" yorkies. After much research over the past ten years, I have found there is not a "teacup" class of breed for Yorkshire Terriers. They are small in size ranging on average from 3 to 7 pounds at adult weight. This is in the "Toy" class breed of dogs and the size that is recognized by AKC (American kennel Club).
The Yorkshire Terrier was introduced in the United States in 1872 and the first Yorkshire Terrier was registered with the American Kennel Club in 1878, making it one of the first twenty-five breeds to be approved for registration by the AKC. During the Victorian Era, the Yorkshire Terrier was a popular pet and showdog in England, and as Americans embraced Victorian customs, so too did they embrace the Yorkshire Terrier.
The ideal Yorkshire Terrier character or "personality" is described with a "carriage very upright" and "conveying an important air". The Yorkshire Terrier is very intelligent and active.
They do like to please their owners so they are very easy to train. They can be a lap dog after playing for a while then they will cuddle up with you.
Yorkshire Terrier Puppies:
Yorkshire Terrier puppies are not born with their adults coats. Yorkies are born black with tan points and slowly transition in to their adults coats over many months, even years. As an adult, a Yorkie can be black and tan, blue and tan, blue and gold, or black and gold.
A newborn Yorkie puppy is born black with tan points on the muzzle, above the eyes, around the legs and feet, the inside of the ears, and the underside of the tail.
It may take up to three years or more for the coat to reach its final color.
The typical fine, straight, and silky Yorkshire Terrier coat has also been listed by many popular dog information websites as being hypoallergenic. The Yorkshire Terrier coat is said to fall out only when brushed or broken.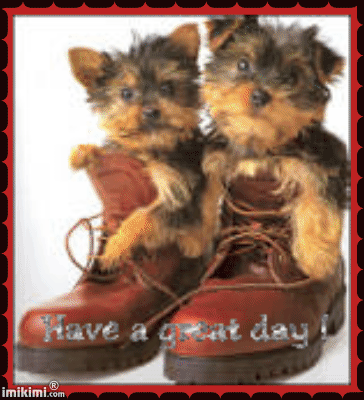 /